THE LODGE
The Lodge is 3800 Sq Ft in total with 2,250 Sq Ft of living space. It has 2 loft bedrooms and a master suite in the Great Room. The post and beam interior is finished in v-match pine with 24 In wide horizontal pine wainscoting; windows and doors are trimmed in reclaimed chestnut. The hardware is Acorn wrought iron. The pine floors are stained chestnut and all windows and doors are thermo-pane. The garage doors are insulated and the 90 Ft porch has cedar decking.
The open floor plan includes living room and dining room, kitchen with custom pine bead board cabinets with framed and reclaimed chestnut. The combo bath/laundry room has a stackable washer and dryer. The building can be heated by either propane or wood. A 30 x 30 Ft Great Room with a cathedral ceiling is over the heated and insulated two-car garage. The daylight basement is also heated and insulated and has French doors with side lights and transom windows opening to the parking area.
The 30 Ft by 32 Ft Great Room was completed in 2020 and is heated by a Jotul 600 DV propane heater. It features wide board wormy pine and walls with cherry trim on the doors and windows. Faux beams grace the cathedral ceiling and carry downb the walls to complete the barn style interior. The west wall features a 6 Ft by 15 Ft high circle top window. The master bath with tub features cherry wainscoting as does the master bathroom. Double French doors open to a 90 Ft porch.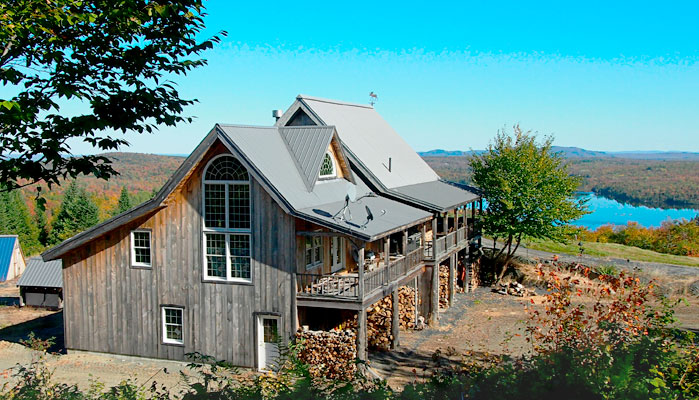 | | |
| --- | --- |
| Bedrooms | 3 |
| Baths | 2, 1 with laundry combo |
| Square footage | 2,250 Sq Ft of living space, 3800 Sq Ft total |
| Porch | 90 Ft wraparound with cedar decking |
| Year built | 1994-2020 |
| Roof | Steel |
| Facade | Shiplap pine |
| Satellite TV | Existing set up available |
| WiFi/Internet | Available |
| Foundation | Concrete with footings and frost walls |
| Garage | 2-car under house, heated & insulated, 8 Ft clearance, insulated automatic doors |
| Appliances | Dishwasher, electric refrigerator, propane oven/stove |
| Heating system | House: Jotul woodstove and Jotul propane stove, Basement/Garage: propane heaters and woodstove |
| Security | Monitored for burglary, fire, temperature loss below 42°F |
| Water/sewer | 200 Ft drilled artesian well, 40-gallon propane water heater/1000-gallon septic tank |
| Power System | 10-kW diesel generator with 6,500 watt gas backup, battery bank, inverter and solar panels with 500 gl diesel tank with 300 gl reserve tank |
| Outbuildings | 24 x 36 Ft barn (doors to be installed summer 2023) with 2-bay vehicle storage plus generators and diesel tanks, also a 10 x 16 Ft A-frame for storage |
A great investment opportunity Buy below market value at $675K and take advantage of owner financing at rates lower than those offered commercially. Get an immediate profit and then the advantage of an income tax deduction as well as the appreciation of this beautiful homestead.
©2023 Greyledge Lodge