Welcome to Greyledge Lodge, a very special place in the Maine Highlands where one can truly experience Nature in all seasons and still enjoy the comforts of home.
Off the beaten track, yet only five miles to town, Greyledge Lodge is the perfect spot for lovers of the outdoors, sportsmen or homesteaders—an excellent location for a home, a second home, or a commercial hospitality business, such as a lodge operation, or rustic bed & breakfast.
Located in Piscataquis County, in the village of Monson, and overlooking the beautiful Lake Hebron, it's only 20 miles to Greenville and Moosehead Lake. The property borders the Appalachian Trail at the start of the famous 100-Mile Wilderness, and the local snowmobile trail. There are miles of trails for hiking, snowmobiling, snowshoeing, cross-country skiing, mountain biking, ATV-ing, birding, etc.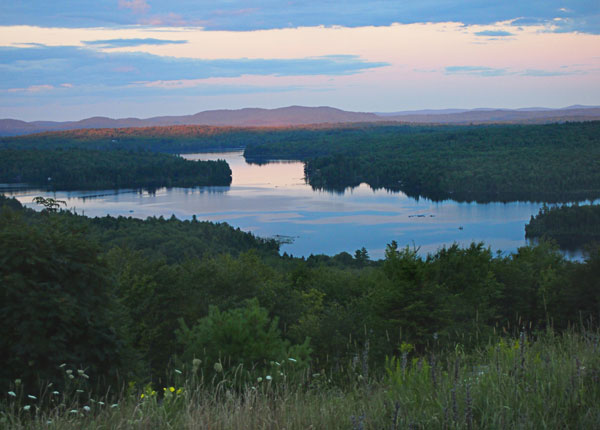 The property features breathtaking, panoramic 35-mile views of lakes and mountains, yet still provides privacy behind a locked gate on a gravel road.
Monson is listed as one of the 200 best places to hunt and fish in the country. 9-pound lake trout have been taken from 525-acre Lake Hebron, which also contains salmon and brook trout. A 202-pound buck was taken on the property.
The Lodge and 59-acre property are being offered here for sale by the owner. The building is 1230 feet above sea level, has a 180° view and good southern exposure—an excellent location for solar power.
More land is available which can be purchased as four separate lots, plus one optional lot. (See Map & Pricing.) There are views from every parcel and no neighbors for a mile.
The property has had extensive timber stand improvement, and in 30 years should be ready for a harvest.